Fresh, local seafood supplies, Northern Ireland
Superior quality, ocean fresh, Professionally served.
Specialising in fresh battered scampi and prawn wholesale.
The seas around Northern Ireland provide an abundance of some of the finest fish and seafood in the world.  Superior Oceans provide a wide range of freshly caught seafood to some of the Country's top hotels, restaurants and eateries, high street shops and direct to the general public.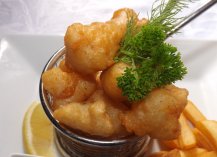 We have an unrivaled passion to provide the best quality produce at the best prices and always aspire to provide our customers throughout Northern Ireland with a professional and reliable service.
Please take a look through our website to find out about us, how we work and the various different fresh fish and seafood products that we supply.